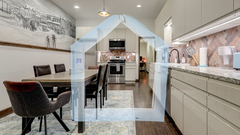 Purchasing bulk kitchen supplies can save significant amounts of money, as you can purchase large quantities of products for a fraction of the individual sale price. The goal is not just to get a lot for less, but to reduce the cost per unit. Research what you need before shopping for kitchen supplies, and use that information to make the most cost effective choices.
Industrial supply catalog companies, janitorial and hospitality distributors, commercial laundries, and large end-users such as hospitals require different kitchen supplies and textiles for their needs. Some things to consider are:
What volume of cooking will be done?

How much cleaning will be done?

How many people will be served at your business or establishment?

How often are you able to launder your kitchen textiles?
Evaluate what your needs are and keep in mind that kitchens require several types of supplies outside of cookware like towels, aprons, potholders, cheesecloths, rugs, and more.
Below are some dos and don'ts of buying bulk kitchen textile supplies.
Dos of Buying Kitchen Supplies
Create a Budget and Stick To It
A well-researched budget is crucial for any business. When creating a budget, get input from staff heavily involved in your operations. Think about how much profit or productivity your kitchen activity will foster, and determine how much funding will be worth the investment. Stick to the budget you plan. Otherwise, you may spend more on items you may not need.
When it's time to buy the kitchen textiles, create a list of items that your kitchen staff use most, or wish they had access to. Prioritize items so that you buy what you can afford while keeping quality in mind. Investing in high-quality items will save you money, provided you take proper care of them.
Don't confuse this to mean that you should go for the most expensive items on the market. There are many options available at Host & Home that vary in price, durability, functionality, and quality.
Consider Sanitation
Consider the procedures needed to clean your textiles to maintain sanitary standards.
Aprons. kitchen rags, and towels will need to be laundered daily to remove stains and prevent mildew and bacteria growth.
Supplies like microfiber cloths are naturally resistant to bacteria and may not need as frequent cleaning, though they do require particular standards of care.
If you are a smaller establishment or a vacation rental, consider your ability to launder and how much you can handle per day while weighing the number of guests or staff . This will help you to determine a  healthy volume of supplies.
Consider Storage
Storage space for kitchen items can be challenging, especially when you have, not just linens and towels to store, but also a large volume of cooking supplies and utensils. Look for quantities of supplies that will fit well within your kitchen and consider how and where you are able to store them.
Ensure that you have the ability to make ample supplies easily accessible to kitchen staff to maintain workflow and productivity.
Don'ts When Buying Kitchen Supplies
Not Conducting Research
Buying kitchen supplies and towels without doing research could be a costly mistake. Spend time researching your options for quality cleaning supplies, cloths, aprons, and rugs.
By purchasing from Host & Home, we cut the hard work out for you by offering top quality products. We are transparent and informative about thread and yarn counts, material quality, GSM (grams per square meter), and more so you can rely on our quality and select what you need easily and efficiently.
Buying Supplies That You Don't Need
Kitchen supplies for institutions, hospitals, diners, cafes, and restaurants are available in many options, to suit the specific needs of each establishment.
Always choose kitchen supplies and linens that match your needs and volume of potential business so that you don't overextend your budget and take up unnecessary space.
Not Comparing Different Price Points
Price is a crucial factor when buying kitchen supplies. That's why it's essential to do research. Take time to explore the available discounts and best prices for all the kitchen supplies you need. You'll stay within your budget and get a better deal on high-quality supplies than you initially thought by purchasing wholesale kitchen supplies.
Buy Bulk Kitchen Supplies From a Trusted Supplier
Choose a supplier that can cater to all your needs at an affordable rate, no matter the amount you need.
At Host & Home, we have been in the textile business for decades and have opened up our warehouse to sell wholesale kitchen supplies, textiles, and cleaning supplies to vacation rental owners, small hotels, homeowners, and other small business owners. We know textiles and we know quality.
Browse today to stock your kitchen and get free shipping on all domestic orders.