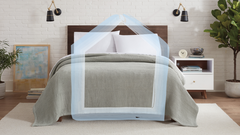 Bedrooms should be sanctuaries to escape daily life's stresses and unwind in comfort and style.
Whether you're looking to create a cozy retreat for your oasis or a property owner seeking vacation rental supplies to enhance the appeal of your rental property or Airbnb, transforming a bedroom into a cozy haven is easier than you might think. In this blog post, we'll explore five ways to do just that, using home decor items that you can conveniently purchase in small quantities or bulk from Host & Home.
1. Plush Bedding for Ultimate Comfort
The foundation of a cozy bedroom is undoubtedly the bedding. Invest in high-quality, soft sheets and luxurious pillows to create a comfortable and inviting sleeping environment. Opt for neutral or calming colors to evoke a sense of tranquility, and don't be afraid to mix and match textures for added depth. Consider providing your guests or yourself with various pillow options, including firm and soft, to cater to individual preferences. 
Vacation Rental Owner Tip: Host & Home sells wholesale sheets so you save money AND upgrade your VRBO or Airbnb. 
2. Layered Textiles for Warmth
Layering is essential when it comes to creating a cozy bedroom. Add warmth and texture by incorporating throw blankets, quilts, and decorative cushions. These make the bed look more inviting and provide extra comfort and warmth during colder months. Mix and match different fabrics and patterns to add visual interest to the room. Also available in case quantities to satisfy your vacation rental supply needs.
3. Dimmable Lighting for Ambiance
The proper lighting can transform the mood of a bedroom instantly. Install dimmable light fixtures or bedside lamps to create an adjustable ambiance. Soft, warm lighting can make a room feel instantly cozier, while adjusting the brightness allows you to cater to different needs and preferences, whether reading a book or setting a romantic atmosphere.
4. Wall Art and Decor for Personalization
Personalize your bedroom or rental property with wall art and decor that reflects your style or the theme of your property. Consider framed artwork, decorative mirrors, or a gallery wall to add character and make the space more inviting. Remember that less is often more, so choose pieces that resonate with the room's overall aesthetic without overwhelming the space.
5. Area Rugs for Softness and Style
An area rug can tie the whole room together while adding extra comfort underfoot. Opt for a rug that complements your decor and color scheme. Whether you prefer a soft shag rug for a cozy look or a stylish, low-pile rug for a more modern feel, the right rug can make a significant difference in the overall feel of the room. No room for an area rug? No problem. Host & Home sells all sizes of rugs, from bathroom rug sets to full-sized runners.
Transforming your bedrooms into cozy retreats doesn't have to be a daunting task. With the right bedding, textiles, lighting, decor, and area rugs, you can create a warm, inviting space you'll love coming home to. If you're a property owner, these upgrades can also enhance the appeal of your rental property or Airbnb, attracting more guests and positive reviews.
Host & Home offers various home decor items to help you achieve the cozy bedroom of your dreams. Whether you want to purchase in small quantities or in bulk for your rental properties, our selection has something for everyone. Visit our website or store today to explore our collection and start your journey to a cozier bedroom retreat.