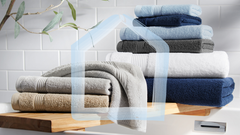 We Proudly Present our Host & Home Bath Towel Collection
The Host & Home Collection of fine bath towels and sets embodies luxury and comfort with a reasonable price tag. Elevate your bathing experience to a new level with our meticulously crafted towels that offer a perfect blend of softness, absorbency, and durability. Whether you're seeking the best for yourself, friends, and your family, or if you are a savvy rental property owner looking to furnish your accommodations with top-tier amenities, the Host & Home Bath Towel Collection is worthy of strong consideration.
Our Host & Home wholesale bath towels are crafted from 100% pure cotton, ensuring unparalleled quality that you can feel at first touch. The lush premium ring spun cotton pile speaks volumes about our commitment to delivering the best quality to our valued customers. Envelop yourself in the soft embrace of these 600GSM towels after your bath or shower. The plush, long-staple, 100% cotton fibers offer a sensation that soothes the senses and provides a calming start to your day or as you wind down for the night.
Sophisticated Style and Function
Indulge yourself or pamper your guests with the unparalleled comfort and sophistication of Host & Home Bath Towels and six-piece Bath Towel Sets. Our towels boast exceptional absorbency, effortlessly whisking away moisture and leaving you feeling dry and refreshed. This substantial towel is absorbent and soft but not so heavy that it overworks your dryer. Elevate your bathing experience with Host & Home bath towels, where luxury meets purpose.
Perfect for Bulk Buyers
Attention, all consumers and bulk buyers! Elevate the experience for your family and guests by providing them with Host & Home Bath Towels. Six-piece bath towel sets are perfect for Airbnbs, VRBOs, and boutique hotels. Choose a different color to match each room, or buy one color in bulk for a consistent hotel-style appearance in every room. These towels are not just functional hotel or vacation rental supplies, but a mark of your commitment to their comfort and satisfaction.
Are you searching for a thoughtful and practical gift? Our Bath Towel Sets, available in various quantities, make for a sophisticated present that radiates luxury. College kids, friends, and loved ones will truly appreciate a stylish gift designed to pamper them.
Design details that set these bath towels apart.
Construction & Design: A tasteful raised texture border for a modern, elegant look. Details include double-stitched edges and soft sewn-in fabric labels. Strong, reinforced edges ensure that your towels remain intact and maintain their original appearance.
Generous Sizing: Host & Home Bath Towels are generously sized at 27" x 54", providing ample coverage, allowing you to wrap yourself in plush premium ring spun cotton that provides an incomparably soft texture, enhancing your overall bathing experience.
Tasteful Colors & Packaging: Choose from an array of elegant, versatile colors inspired by nature tones to complement any interior design. Host & Home towels, presented in simple, smart packaging, reflect the sleek product inside.
Easy Care: While these towels exude luxury, they have been designed to be practical. They are machine washable and maintain plushness and color even after many, many washes.
Four-Packs, Six-Piece Towel Sets, & Cases of 24: Choose from convenient purchasing options for singles, families, and rental property owners.
Meticulously designed style, construction, and details adorn Host & Home Bath Towels and Bath Towel Sets to elevate your bathing experience and daily routine. Each design element reflects our commitment to creating an unparalleled product that resonates with both individual consumers and bulk buyers.