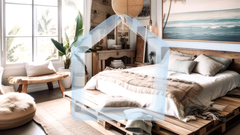 Everyone wants good sleep and comfort at home and on vacation, especially in the warm weather. Cooling bed linens from Aston & Arden are the perfect solution for hosts who want to ensure their families and guests sleep well and enjoy their leisure time. When gathering your wholesale vacation rental supplies consider bedding linens and blankets from Host & Home.
SUSTAINABLE COOLING SHEET SETS
With warm summer nights, light and breathable bedding is paramount. Everyone is on the lookout for bedding sets that keep them cool in the heat of the summer.
Sheets made with bamboo rayon have natural temperature-regulating properties that promote a deep, comfortable night's sleep, even for the warmest sleepers. Bamboo rayon is hypoallergenic, naturally resists allergens, and is pH balanced, making it a must-have for sensitive skin.
Sustainability remains a top priority even during summer for those actively seeking home textiles made from organic and eco-friendly materials. Bamboo sprouts new plants yearly and can thrive without irrigation while generating 35% more oxygen than hardwood trees, thus increasing its environmental benefit and value to eco-conscious consumers.
Undeniably luxurious Aston & Arden eucalyptus Tencel™ sheet sets are cool against the skin and silky soft to the touch. Tencel™ lyocell fibers come from the core of eucalyptus trees and are spun into soft, fine yarns which align with the body's natural temperature for a truly restful sleep. Performance features include high breathability and natural hypoallergenic properties, making Tencel™ sheets perfect for sensitive skin.
Linen and Eucalyptus Lyocell Tencel™ Blend Sheet Sets
Traditional linen derived from the flax plant is a popular fabric for summer homes and warm weather spaces thanks to its light, loose-weave, casual appearance. Our Linocel sheet set is crafted from a blend of 40% linen and 60% eucalyptus lyocell (Tencel). These beautiful sheets look and feel just like linen but have performance properties that eucalyptus Tencel™ offers — cooling to the skin, hypoallergenic, anti-static for pH balance, resistance to bacteria, and moisture wicking. The open weave fabric and earth tone color palette make designing a linen-look bedroom simple while guests reap all the benefits of sustainable eucalyptus Tencel™.
Eucalyptus Tencel™ and Cotton Blend Blankets and Throws
Host & Home offers a companion blanket to our sustainable sheets. The Aston & Arden Eucalyptus Tencel™ and Cotton Blend blanket and throw blanket is available in six sophisticated colors that match our sheet collections and four sizes. This innovative mid-weight blanket provides all the benefits of eucalyptus Tencel™ in a stylish textile for bedrooms and social spaces.
Designed in cosmopolitan color palettes inspired by serene earth tones, the Aston & Arden collection of cooling bedroom textiles will elevate your bedroom to a tranquil sleep space. Enjoy peace of mind knowing your family and guests will sleep well in your beautiful new sustainably-sourced sheets and blankets from Aston & Arden.