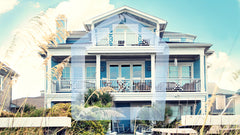 Your Property Is Your Reputation.
As a vacation rental owner, providing guests with comfortable and high-quality linens is crucial to ensuring a positive guest experience. But how do you determine how much bulk towels and wholesale bedding you need to purchase? This is where a linen par calculator can come in handy.
The Importance of Calculating Your Linen Needs.
A linen par calculator is a tool that helps vacation rental owners calculate their linen needs based on the number of guests, the length of stay, and other factors. Using a linen par calculator, you can ensure enough linens to meet your guests' needs without overspending on unnecessary inventory.
We at Host & Home, a leading supplier of vacation rental supplies, offer a linen par calculator on our website to help vacation rental owners determine their linen needs. You can calculate the number of sheets needed for all bed sizes. Figure out how many bath towels are needed for each guest in your rental. Importantly, you can plan your textile needs based on your laundry cycle.
Going beyond the bedroom and bathroom (see what we did there?), you can determine how many pool towels, napkins, and kitchen towels you may need. Want to make a fantastic first impression? Add makeup removal washcloths to your bathrooms and determine how many you need using the linen par calculator. 
Buy Smart.
Once you have determined your linen needs, you can purchase the appropriate quantity of linens in bulk to take advantage of the cost savings that come with bulk purchasing. By doing this, you can ensure enough high-quality linens to provide guests with a comfortable and enjoyable stay while controlling your linen costs. 
In addition, Host & Home offers a wide range of bulk towels and wholesale bedding options to cater to all your needs. Their collection includes high-quality towels made from durable materials and comfortable bedding designed to withstand frequent use and washing. 
In Conclusion.
Calculating your linen needs using a
linen par calculator
can help vacation rental owners purchase the appropriate quantity of bulk towels and wholesale bedding to meet the needs of their guests while also keeping costs under control. Host & Home's linen par calculator and wide range of high-quality vacation rental supplies can help ensure your guests have a comfortable and enjoyable stay, leading to positive reviews and rep