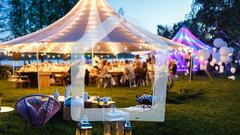 The Host with the Most Buys in Bulk
When hosting a big event, no matter where it is, you can outfit the space with decor that fits the mood of the event without breaking the bank. Lately, more people have been hosting their events at private rental properties. The attraction to these types of spaces is obvious — plenty of privacy, all the comforts of home, the option to extend the party, and simply avoiding a "blah" event at a stuffy standard rented venue. 
In Airbnbs, VRBOs, and vacation homes — big parties happen! Throw a great party and save money when you use Host & Home as a resource to purchase vacation rental supplies.
The kitchen is often the most crowded space in the house during parties and a good place to start your planning. Enhance cooking and dining spaces by adding stylish towels and textiles.  
Host & Home's towel sets are designed with style and function in mind. Preferences for kitchen styles are wide-ranging.
Down-home country kitchen and Americana motifs are popular, with some in more rural areas. Charming country designs include a variety of buffalo plaids, checkerboard patterns, and windowpane stripes. Anyone can conveniently solve decor challenges with Host & Home's large collection of kitchen towel sets. Most sets include patterned towels and solid matching color towels. These sets come in various breakdowns including two-piece sets, six-piece sets, and assorted mix-and-match sets.
Some hosts prefer the purist aesthetic of a professional culinary kitchen, most often seen in cosmopolitan spaces. Host & Home has bulk towels, textiles, and other kitchen supplies to satisfy every style. All of Host & Home's kitchen towel sets are sold in bulk cases so you can save money!
For the culinary purist, Host & Home has microfiber or cotton barmops with different color stripes — a favorite of professional chefs and servers everywhere. Our classic white striped Great British Tea Towel is beloved for its versatility as a kitchen towel, napkin, basket liner, bun cover, and even a placemat. Choose from a large selection of bulk towels for chefs (and foodies).
And lest we forget... 
Party planners, crafters, bakers, and pastry chefs all use cheesecloth. Host & Home has a large selection of sizes and grades of cheesecloth. Choose a single bag of four square yards for home bakers or a small project. Bulk cases are available in multiple grades (10 to 90) of bleached and unbleached cheesecloth packed in flat sheets.
Host & Home also offers convenient cheesecloth rolls that deliver 128 precut 24" x 36" sheets. Rolls are even available by the case of 10 for larger kitchens, culinary businesses, or craft projects. Consider cheesecloth when planning your decorations and your menu.
Wholesale Textiles for Dining

Share the creative fruits of your labor in the kitchen by feeding friends and family. When making your list for a large dinner party, remember that Host & Home has an extensive collection of table linens, cloth napkins, and server supplies. 

Match any decor, season, or mood with a wide array of bistro napkins and Mariposa solid color dinner napkins. Mariposa napkins are made from soft spun polyester, making them a breeze to clean and conveniently wrinkle-resistant for quick table setting. Dinner napkins are available in 11 colors, and bistro napkins come in 11 striped color combinations.
Mix colorful cloth napkins with black or white tablecloths to fit any mood. Beautiful cloth tablecloths add an air of elegance and protect tables, making cleanup quick and easy. Popular sizes of square and rectangular tablecloths are available in 6-packs and cases of 24 pieces. Remember to add table linens to your vacation rental supplies list in plenty of time for the big event.
Styling Tip: Try a layer of artfully placed cheesecloth across your table before adding vases or place settings! 

Large gatherings like weddings and Bar Mitzvahs require a full staff of serving professionals. For a catered event outfitting the server staff in matching aprons is vital. Guests can find servers easily, and servers are protected from spills.

Casual affairs may call for bib aprons which can be bought by the 12-pack or in a case of 48. Full-bistro or half-bistro aprons come in cases of 48. Host & Home's stylish chalk stripe bistro apron is one of our favorites if you like an edgier look!
For large casual events like family picnics or reunions, waist aprons or half aprons may be more appropriate. Host & Home has plenty of styles and colors to suit any occasion. 
Tip for Rental Property Owners: Remember to stock your properties with towels, table linens, and napkins for guests, as they are sure to spend lots of time cooking, eating, and celebrating. You are sure to garner a few 5-star reviews!
Hosting a big party or event is challenging, especially in an unfamiliar place. Make it easier for yourself. When you are the host at that spacious Airbnb in the mountains or that gorgeous beach house on the coast, Host & Home offers vacation rental supplies in bulk so you can throw the most fabulous party and not go broke!