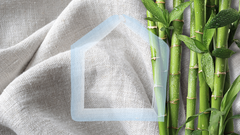 New Luxury Sheet Sets
Each unique performance fabric we've chosen for our Aston & Arden collection of luxury sheet sets has unique properties that elevate them to luxury status. Bamboo rayon, 100% eucalyptus lyocell, or a linen and lyocell blend, is sure to evoke feelings of calm and comfort, leading to deep rejuvenating sleep.
Bamboo Rayon is the silkiest of the three, with a soft, smooth finish. This breathable performance fabric is truly sensual against the skin. These sheets are sought after for properties like natural cooling, breathability, and pH balance. Bamboo rayon ensures that you stay cool and dry as these sheets are highly absorbent, wicking away moisture while you rest. Breathe easier with hypoallergenic bamboo rayon sheets that naturally resist allergens such as mold, mildew, and dust mites. 
Bamboo is self-sustaining plant and sprouts new baby plants yearly. It is the fastest-growing plant on the planet, and with sufficient rainfall, it can thrive without irrigation. It grows without pesticides and fertilizers, which helps to protect the environment and saves labor costs. Bamboo also absorbs carbon emissions generating up to 35% more oxygen than hardwood trees.
Our bamboo rayon sheet sets come in five nuanced shades inspired by nature: misty blue, steel grey, almond cream, warm taupe, and bone white.
Tencel™ is the brand name for 100% eucalyptus lyocell, a fiber derived from sustainable eucalyptus wood pulp. Eucalyptus yarns, when woven, create a fabric with a feather-soft hand feel. 
Eucalyptus fabric naturally cools and aligns with the body's internal thermal regulation system. It absorbs moisture 70% more efficiently than cotton, giving it moisture-wicking abilities. Fabric made from eucalyptus has natural anti-bacterial properties and is hypoallergenic, perfect for sensitive skin.
Inspired by nature, this elegant collection of earth tones includes sky blue, true navy, winter grey, slate grey, creamy white, beignet beige, and wedding white. These four-piece sets are available in California king, king, queen, and full sizes, and extra pillowcases in standard and king size.
This collection of sheets is made from a unique yarn blend of eucalyptus lyocell and linen. Eucalyptus lyocell Tencel™ is derived from sustainable eucalyptus wood pulp that makes incredibly soft and silky yarns. Tencel™ has superior draping qualities, while linen's smooth classic texture is very soft to the touch. 
Both linen and lyocell contain naturally cooling properties. Linen's lightweight, breathable fibers wick moisture away from the body, where it is absorbed and dispersed by the open-weave construction. Many benefits, including bacteria-resistant properties, moisture-absorbency, and evaporating capabilities, make this linen/lyocell blend fabric perfect for those with sensitive skin. Linen is also anti-static, which helps skin retain its natural pH levels. 
We chose a subtle calming color palette for our linen and eucalyptus lyocell sheet sets. Linen and Tencel™ sheet sets are available in latte cream, sand tan, icy grey, and powder white. Four-piece sheet sets are available in California king, king, queen, and full sizes. 
All of our luxury sheets are manufactured in OEKO-TEX certified facilities, which provide comprehensive analysis and assessments of the following production conditions: chemical management, environmental performance, environmental management, social responsibility, quality management, and health protection and safety at work. 
Three Luxury Performance Sheet Sets
When buying
bulk wholesale sheets and bedding
, consider these three performance sheet sets. All offer supreme comfort and sophisticated style. Each of the unique fabrics we've chosen is sure to stimulate feelings of tranquility and lead to a deep relaxing dream state. Rest assured.