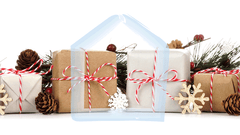 The holiday gift giving season is upon us and while most people give to friends and family, there are often other types of "giftees" to consider. Corporate gifts and gifts for groups, like organizations, clubs, teams, staff, etc. are often on the list. With wholesale bulk buying options as well as options for smaller quantities, Host & Home is the quintessential one-stop shop for all types of giving.
Wholesale Bedding
Blankets and throws are versatile options for gifting to friends, family, and groups. Send a beautiful throw to business colleagues with "warm wishes" for a memorable and lasting gift. Buying in bulk cases at wholesale prices makes group gifting simple and less expensive than retail shopping.
Cotton and Eucalyptus Throws and Blankets
Aston & Arden throws and blankets, made from 70% cotton and 30% sustainable eucalyptus lyocell, feature a classic diamond weave design. Cocoon yourself in stylish comfort and the enhanced cooling feel of Tencel®. Cases contain four throws or blankets.
Throws (50x70") $49.99 / Blankets (queen) starting at $79.99
Bulk throws (case of 4) $129.00 / Bulk blankets (case of 4) starting at $175.00
Spa and Beauty Gifts
Host & Home has an extensive line of wholesale bath and beauty products where you'll find something unique for everyone on your list. For those who need multiple gifts for corporate giving or group gifts, these items can be ordered in bulk at wholesale pricing. Salons, gyms, dance studios, etc., often gift beauty items to clients and service providers at the holidays.
Makeup Removal Cloth Dispenser
BCK2U brand's handy dispenser box of makeup removal washcloths is an excellent stocking stuffer. Makeup remover 25-count washcloths come in a tissue box-sized dispenser with perfect size 9x9" white cloths. Wash and reuse or toss and open a new box

(9x9") $11.99 per dispenser box, Case of 24 dispenser boxes $120.00
Coral Fleece Makeup Removal Cloths
Coral fleece makeup cloths in six solid colors trimmed with playful patterns are a fun gift for all ages. Colorful designs like pastel feathers, sugar skulls, lipstick & kisses, blue paisley, pink houndstooth, and multicolor bubbles will delight your "giftees." BCK2U brand decorative makeup cloths are larger than most makeup towels and designed with a hanging loop on one side. They are pre-boxed in sets of five in matching decorative gift boxes, complete with a matching travel bag inside, making them perfect for gifting on the go!

(7x16") $12.99 per set, Case of 18 sets $120.00
BCK2U brand's black terry washcloths makeup removal capabilities ensure that fresh faces are clean, refreshed, and glowing! Choose from cotton terry or coral fleece microfiber are perfect stocking stuffers to continue the pampering theme this season. These black makeup cloths save white towels from stains and wash up beautifully. See our website for an extensive collection of bulk towels.

(13x13") Terry 6-pack $ 19.99, Coral fleece 3-pack $16.99
Terry (case of 144) $249.00, Coral Fleece (case of 108) $179.00 
Charming Kitchen Gifts
Kitchen towels are a great gift for individuals and groups? Create charming personal gifts for friends and family when you buy kitchen towel sets. Gift Idea: Wrap homemade jam or freshly baked cookies in them! Gifting employees at your restaurant or dinner club? Save money when you buy bulk towels.
The Sloppy Chef® 2-towel set, with one solid color towel and one embroidered, displays lucky icons from around the world. Your friends and family will love designs like lucky horseshoes, four-leaf clovers, happy fish, a hamsa, ladybugs, sugar skulls, and laughing Buddhas. There's something for everyone in this collection.

(16x26") $11.99 Set of two towels
Case of 40 sets $160.00 ($2.00 per towel)
Our Herringbone Tea Towel features the classic V-shaped ticking design down the center in a choice of five colors. Your "culinary capable" friends and family will love the refined European style and sophistication. Surprise your guests with a classic culinary textile. 

(15x25") 12-Pack $24.99, Case of 288 $179.00
The Auto Enthusiast
TowelZilla™ Microfiber Car Drying Towel
TowelZilla™ super-plush microfiber car-drying towel is a winner for the car buffs on your list. No job is too large for this towel! It is one of the thickest, softest car drying towels on the market, weighing in at a hefty 800GSM. Available in a two sizes — one towel pack bags (25x36") and three towel pack (18x30") bags. Need gifts for a car club? Pick up a case of 20 for the shiniest car club in town!
(25x36") 1-pack $19.99, (18x30") 3-pack $25.99
Case of 20 1-Packs $220.00 (20 towels), Case of 12 3-Packs (36 towels) $240.00
Pet Gifts with a Twist!
Stock up on gifts for the animals in the family with soft polar fleece Pet Blankets in sets of six. Choose from charming big paws and big bones designs. Add some flair to the family pets' beds. Do you donate to pet charities? A case of pet blankets is a thoughtful, practical gift and much appreciated.
Paws and Bones:  6-Pack: (24x28") $15.99, (28x40") $23.99, (40x56") $34.99
Paws and Bones: Case of 48 (28x40") $70.00, Case of 36 (28x40") $99.00, Case of 36 (40x56") $155.00
Warm Weather Gifts
All of our beach and cabana towels are available in small quantities for personal gifting and bulk quantities. Consider bulk towels for group gifts like annual VIP resort guests or realtor gifts for new homeowners.
The Las Rayas pool towel is made with soft 100% premium cotton trimmed with flat woven fine horizontal stripes. The Las Rayas design is a subtle hat tip to the summer poolside style of Las Vegas or Palm Springs in the 50s. This is a generous 30x60 in. towel made from 100% soft ring-spun cotton. Matching chaise lounge covers are available for a coordinated set.

(30x60") 4-Pack $49.99 (Check for case availability)
Las Rayas Chaise Lounge Covers
Our Las Rayas oversized chaise lounge covers are made with soft 100% premium cotton trimmed with flat woven fine horizontal stripes to match our iconic Las Rayas Pool Towels. Choose from seven color stripes.
(30x85") 2-pack $39.99, Case of 12 $189.00
Luxury Reversible Resort Towels
Aston & Arden Luxury Reversible Resort Towels are made from 100% ring spun cotton, Aston & Arden reversible beach & pool towels are one of the most absorbent, softest, and heaviest towels available on the market. This 600 GSM luxury beach towel has a handsome broad reversible stripe pattern and a unique striped dobby on each edge.

(35x70") 1 Towel $34.99, Case of 8 $189.00
Simplify Your Holiday Shopping with Host & Home
Host & Home is a perfect place to find gifts for friends, family, and gifts for corporate or group giving with our bulk wholesale options.