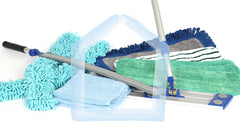 Cleaning your home or business doesn't have to be difficult as long as you have the right cleaning supplies. Host & Home has various cleaning supplies that meet homeowner and business owner needs. Here are the wholesale cleaning supplies you should keep on hand to keep cleaning productive: 
Cleaning Kits
At Host & Home, we know it can be challenging to remember all of the cleaning supplies you need for mopping and dusting. We sell cleaning gear to help you get started. Get everything you need to mop or dust using our cleaning mop kit: 
What's Included: Find everything you need for any kind of cleaning project. Our cleaning kit includes reusable pads, one 71" extendable dust mop, and three microfiber wet mops. It also comes with microfiber chenille dusting covers, microfiber cleaning cloths, and a free dusting wand.
Why It Works: Different spaces require surface-specific tools to reach their cleanliness potential. Our cleaning kit mop kit will help you mop floors, clean windows, and even dust any kind of hard-to-reach space. You can even use the kit supplies to keep your car refreshed and clean.
Care Requirements: We recommend that you wash the microfiber cloths included in this kit without fabric conditioner or bleach and air dry or tumble dry with a low heat setting. This kind of care will keep your cloths in pristine condition, use after use.
Mop Supplies
We have everything you need for mopping, including mop buckets and a variety of mop heads. The mop head you need will depend on the floor you are cleaning and the soil level. 
Mop Bucket: If you are wet mopping, you need our easy-to-use six-gallon mop bucket. The wheels and bucket handle make moving the bucket safe and comfortable. The sieve is perfect for wringing out dirty water on flat mop heads. 
Wet and Dry Mop Pads: These mop pads are perfect for dry cleaning dust and wet mopping floors. With these mop pads, you can clean vinyl, hardwood, laminate, and tile floors. They are velcro backed and easily attach to standard velcro flat mop bases. 
Microfiber Wet Mop Pads: These microfiber wet mop pads are easy to use with standard velcro-backed flat mop frames. They come in sizes ranging from 13", 18", and 24". They can clean floors, windows, ceilings, and even furniture. The wet mop heads are machine washable and reusable for over 200 cleanings. 
Scrubbing Microfiber Mop Pads: These mop pads are textured to help clean floors and other surfaces during the cleaning process. The mildly abrasive texture breaks down dirt and soil without leaving streaks. They are machine washable and reusable. 
Cleaning Cloths & Rags
Microfiber Towels: Our microfiber towels are premium quality, lint-free, multi-purpose, machine washable, and reusable. These towels are perfect for dusting, drying, buffing, polishing, and cleaning delicate items. 
 
Waffle Microfiber Towels: Use these textured towels to wipe down surfaces or scrub dried-on messes. They can clean large spills, polish stainless steel, and complete other general household cleaning tasks. You can reuse these durable towels many times because they are machine washable. 
Polyester Knit Wipes: These wipes are perfect for use in cleanroom environments. They are non-abrasive and won't scratch or damage your belongings. The wipes are durable, so you can remove dust and dirt easily. You can use them to clean lab equipment, medical equipment, optical lenses, and electronics. 
Cleaning Rags: We have microfiber smart rags, colored terry towel rags, and white knit T-shirt cleaning rags. Cleaning rags are great to use for an array of cleaning needs. Our cleaning rags are machine washable, dry fast, and reusable. You can use them for dusting, wiping countertops, cleaning bathrooms, absorbing spills, and more. 
Microfiber Cleaning Mitts: Our one-size-fits-all microfiber dusting mitts help you clean difficult-to-reach places. The mitts help you get a good grip with their ergonomic design. You can dry dust or wet wipe the dirt and grime away using only water. They are great for dusting, polishing, drying, buffing, and more. 
Bar Mop Towels: These terry towels make great clean-up cloths because they are absorbent. You can use them to clean heavy-duty spills and messes. They are ideal for cleaning behind bars, in kitchens, and in dining rooms. Terry cleaning rags are reusable and machine washable if they are not heavily soiled. Once they are soiled or stained beyond rescue, you can simply dispose of them and get a new one. 
Protective Items
Keep yourself and your staff protected while cleaning. Host & Home has face masks and aprons available in bulk quantities. 
Face Masks: Cleaning can stir up settled dust and spread bacteria. Our disposable face masks offer three layers of protection. They are easy to breathe in and have elastic earloops for a comfortable wearing experience.
Aprons: Host & Home offers a variety of aprons to keep yourself and your staff clean while working. Here are our three most popular aprons for use while cleaning:
Cobbler aprons are double-sided, with pockets and adjustable ties. These aprons are made of 100% polyester. They protect the front and back of your clothing from your shoulders down to your hips.  
Bib aprons are knee-length and have pockets and adjustable ties. These aprons protect the front of your clothing from your chest to your upper thighs. 
Half waist aprons (also called half bistro aprons) cover the area from your waist to the tops of your knees with pockets and adjustable ties. 
Our aprons are durable, reusable, and machine washable. We offer them in many colors, including black, white, red, and navy. 
Buy Wholesale Cleaning Supplies From Host & Home
Host & Home provides a wide spread of cleaning supplies in varying colors, sizes, and quantities to meet your cleaning needs. With our available supplies, you can dust, scrub, clean, and so much more. 
Let Host & Home help with your wholesale cleaning supplies needs. Our cleaning products are available in bulk to save you time and money. We have cleaning kits, mop supplies, cleaning cloths, and protective items to make cleaning your home or business more manageable. Contact us today to get started.