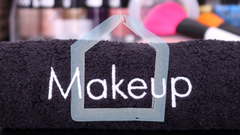 Providing guests with the best bath and beauty supplies will make their stay feel more like home. Help your customers have an enjoyable, comfortable experience staying at your property by offering beauty supplies throughout your vacation rental and hotel rooms.
Benefits of Providing Makeup Removal Towels
At Host & Home, we have a variety of wholesale towels to choose from to meet your guest's needs. One type of towel you should offer your guests is a makeup removal towel or washcloth.
Though the primary beneficiary of this product is your guest, here are three benefits you'll enjoy when you provide your guests with towels specifically for makeup removal.
Preserve White Towels
Providing towels dedicated to makeup removal will decrease stains on your white bath towels, hand towels, and washcloths. Oily stains on their towels repulse guests. Stains suggest a lack of cleanliness and sanitation, which will lead to negative reviews and loss of future revenue. Makeup stains on towels are difficult to remove and can cause excessive wear and tear on your towels due to repetitive exposure to stain removal chemicals. If you cannot remove makeup stains or towels get worn down from stain removal, costly towel replacement will be necessary.
Improved Customer Experience
Guests love pampering. Little indulgences such as embroidered makeup removal towels are a cost-efficient yet luxurious touch for your guest bathrooms. Visitors will enjoy using washcloths designed explicitly for gentle skin care and suggest a higher level of luxury and pride in your business.
Choose the Best Makeup Removal Towels 
Host & Home offers several makeup removal towel constructions. Traditional cotton terry in two sizes and soft coral fleece in three colors (black, pink, and grey).
Cotton Makeup Removal Washcloths
Cotton embroidered terry makeup towels were first introduced by the hospitality industry. Cotton construction exfoliates better than coral fleece makeup removal towels. They are available in a standard 13" x 13" washcloth and 11" x 17" fingertip towel. While the washcloths stack well on vanities, the fingertip towel hangs well on bath rails. They may be purchased by the six-pack for home use and by the case of 144 for vacation rental and hotel guest rooms.
Coral Fleece Makeup Removal Washcloths
Introduced as a more plush, gentle washcloth by retailers in affordable three-packs, coral fleece embroidered makeup removal washcloths are a more fashion-forward alternative to cotton washcloths. Coral fleece (a microfiber product) is durable and lint less than cotton. They may be purchased by the six-pack for home use and, by the case of 108, for vacation rental and hotel guest rooms. 
Eco-friendly Makeup Removal
We suggest providing your customers with cotton or microfiber makeup towels that are reusable as opposed to disposable options. These are the most cost-effective and eco-friendly options for your business. Launderable up to 500 times coral fleece makeup removal washcloths replace 1000s of disposable tissues and makeup removal pads.
Displaying Makeup Removal Towels
It is vital to make sure your guests know which towels are for makeup removal. Having the word "Makeup" embroidered on the towel tells guests that the towel is designed for scrubbing makeup off. Choose a display basket, hang them near the mirror, or simply fold them neatly and lay them next to the bathroom sink.
Purchase in Bulk Makeup Removal Towels and Save!
You might be surprised at how many makeup removal towels your guests will go through during their stay. The best way to have enough inventory for your guests, depending on the size of your business, is to consider large quantities. We offer cases up to 144 in our collections.
Choose Host & Home for Wholesale Bath and Beauty
Choose Host & Home for all your wholesale bath and beauty needs to provide the best supplies for your guests. We have everything you need, from makeup removal towels to bulk bedding & linens, to floor mats. Let us help you provide a satisfying experience to your guests.
This sentence means nothing
Circular sentence - says what was said above.