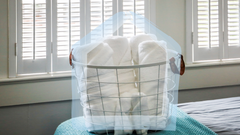 Any guest or patron knows that a good towel is part of a great experience. Whether you're hosting in your vacation rental, a motel, or in your own home, a good guest experience is the key to a good reputation. To be a five-star host for your rental property (or your own family) be sure to have a good supplier for bathroom towel sets.
How many bathroom towel sets do you need? That all depends on several factors. Are you providing towels for a small or large family? Are you rotating groups of people in a small rental property? Do you own multiple units in a single rental property, or are you buying towels sets for several units in many properties? What level of (luxury) guest experience are you offering? Here are some guidelines for quantities. Read on to learn more about other variables to consider once you determine how many towel sets you need.
Super-economy: One set* per guest, one in the laundry


Mid-range comfort: One set per guest, one set in the laundry, one set in storage


5-star Hotel: Two sets per guest including oversized bath towels or bath sheets, two extra sets in storage, extra hand towels and washcloths, makeup removal towels, and cabana towels by the pool.


Superior luxury accommodations: Two sets per guest including oversized bath towels or bath sheets, one additional set per guest in storage, extra hand towels and washcloths, and makeup removal washcloths.

*A set includes one each: bath towel, hand towel, and washcloth. Weights, sizes, materials, design, and construction will vary and affect the price.
Things to Consider when Purchasing Towels
You may be looking for wholesale bathroom towels for a variety of reasons. Personal use of course, but if you're running a business, you'll want greater quantities on-hand. Material, size, weight, design, and the environment for usage are all considerations when buying wholesale bathroom towels.
Towel Material & Quality
User preferences and use cases vary, so we offer a wide range of materials and designs. Naturally, the quality also varies, and each option comes at a corresponding price point. The most popular hotel towel fabric is a blend of polyester and cotton, which can be economical or pricey depending on type of cotton yarn (blended, open-end, ring spun, single or double yarn, low-twist, zero-twist, etc.). Hotels typically use an 86%/14% blend. The polyester ground (14%) gives the towel more strength while drying quicker. The pile (86%) is cotton for softness and absorbency. The final product depends also on the weight, size, construction, and embellishments.
We carry economically priced towels suited for environments like hospitals or gyms and heavier plush towels suited for nice hotels. Here are some specs you can expect for various levels of towel quality.
Most standard bath towel sets include bath towels that range in size from 22" x 44" (for 1-Star motels) to 27" x 54". Hand towels range from approximately standard 16" x 27" to 18" x 32", and washcloths typically range from 11" x 11" up to 13" x 13".
We sell institutional collections of white towels that are sold by the dozen or case. A couple of examples are listed below.
GOOD - Our Admiral brand is well-suited for economy hotels and motels or an Airbnb with a high student traveler turn-over. The towel features blend of polyester and economic 12S open end cotton. The Admiral collection includes two sizes of bath towels 24" x 50" (10.5lb per dozen as noted in industry terms) and 24" x 48" (8lbs per dozen). The collection includes hand towels and washcloths as well.
BETTER - By contrast, our Magellan hotel collection which also includes two sizes of bath towels is suited for more upscale hotels or comfortable rental properties for mature travelers on vacation. The construction is 20D ring spun 100% premium. This towel has Bath towel sizes include a plush 27" x 54" hotel towel weighing 17lb per dozen and a 27" x 50" at 14lbs.
BEST - Our two Aston & Arden collections of luxury Turkish cotton bath towels each boast 30" x 60" bath sheets weighing 18lb per dozen. Hand towels are 18" x 32" and washcloths are 13" x 13. Our Turkish towel collections were specifically designed with extra soft combed Turkish cotton, extra weight and absorbency, trending colors, and stylish details like an ombre striped dobby border for a clientele that relishes luxury bath products.
Bathroom Usage
Bathroom towel usage can vary greatly. You should consider budget first and then purchase sets based on expected usage.
Home:

If you are purchasing for your home you will want to consider the number of individuals in your home, how often they will use bath towels and wash their face and hands — and how often you want to do laundry! Having at least one set clean while one is being laundered is the minimum gauge for estimating quantity.



Host

: If you have a B&B, or vacation rental property you'll want to consider the maximum number of guests for full capacity and purchase towels accordingly. Daily activities and bathroom use frequency also influence the number of sets you'll need. For example, if you live near a beach or pool that guests will access frequently, they may utilize more towels than a guest in a colder or more suburban climate. You may consider keeping cabana towels on your shopping list for "beachy" properties to minimize overuse of bath towels for recreation.



Larger accommodations

: On a larger scale, hotels and motels will need to accommodate the potential for multiple rooms hosting multiple guests, and account for potential damage and "shrinkage." Shrinkage or linen-loss is the shrinking of your towel supplies through theft and towel destruction. Ample supplies will be needed and the larger the capacity, the more sets you will need. Consider buying in bulk from the Admiral or Magellan collections for high-volume needs.
Washing and Drying Capacity
Property managers or anyone with a large family will tell you that you need good appliances to launder and dry massive amounts of bath towels. If you are contemplating entering the property management game, make sure you have heavy duty washers and dryers — or consider using a commercial laundry to pick up, launder, and drop off your guest linen.
Storage Space
Some Host & Home towels are smaller, and others are not as plush so they will fold smaller and function well for small bathrooms or storage paces, while others are thick and plush and will work best in master and large bathrooms. If you have a smaller bathroom space with less space and still want to provide a luxurious experience, consider installing some additional shelving or utilizing a bar cart or removable shelf that can be moved in and out of the space as needed.
Bathroom Towel Breakdown
We have the following options available in our bathroom towel packages:
Standard Bath Towel Sets: The beauty of a bath towel set is that it is convenient! Open the package and you instantly have three or six pieces (one or two units) that works specifically with your décor style.
Bath Towels Assortments: For a collection of different styles, colors, and designs, choose one of our assortments. If have a funky eclectic vibe and your towels don't need to match this is a perfect option. Give each room its own personality!
Bath Sheets:

Our assortments include big/oversized bath sheets, perfect for warming your family and guests up after a soak.

Ultimate Bath Sheets (40" x 65" to 35" x 72") extra-large bath towels in assorted colors and styles
Deluxe Bath Sheets (40" x 60" to 34" x 68") extra-large bath towels in assorted solid colors
Hand Towels: A good-sized hand towel is versatile, functional, and can also be decorative for your bathroom. It offers practicality and convenience with a decorative touch.
Sunshine Hand Towels (16" x 18" to 18" x 20") towels in premium assorted patterns & jacquards pair well with our Sunshine washcloths
Ambassador Hand Towels (16" x 28" to 18" x 30") budget-friendly assorted sizes, solids & stripes


Washcloths: The washcloth is a necessity for washing and an ample supply is always appreciated by family and guests. With our ribbon-wrapped sets you can place a pack of untouched new washcloths in each bathroom. Your guests will love it! These washcloths also make great cleaning cloths after the guests leave.
Purchase Bathroom Towel Sets Wholesale
At Host & Home, we provide premium quality wholesale bathroom towel sets for your convenience as well as bulk bath towels, hand towels, and washcloths — carton packed and delivered to your door.